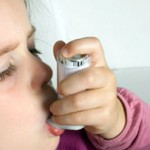 About three decades before, asthma was heard with some shocking ears and sympathising eyes but now every other person is suffering with asthma. You can't find any age group free of this disease. Children even infants are found very vulnerable to this disease. This unique article of mine will help you know what is the root cause of asthma and how can it be treated.
Asthma is a common disorder, accounting in the United States for 1% to 3% of all office visits, 500,000 hospital admissions per year, more paediatric hospital admissions than any other single illness, and more than 5000 deaths annually. The pharmacological therapy of asthma employs drugs aimed at reducing airway inflammation (i.e., anti-inflammatory agents) and drugs aimed more directly at decreasing bronchospasm (i.e., bronchodilators). To these ends, six classes of therapeutic agents are presently indicated for asthma treatment: b adrenergic receptor agonists, glucocorticoids, leukotriene inhibitors, chromones, methylxanthines, and inhibitors of immunoglobulin E (IgE). Each of these classes is discussed below.
Asthma is associated with inflammation of the airway wall. Increased numbers of various types of inflammatory cells, most notably eosinophils but also basophiles, mast cells, macrophages, and certain types of lymphocytes, can be found in airway wall biopsies and in bronchoalveolar lavage fluid from asthmatic patients. Inflammatory mediators and various cytokines also are increased in the airways of asthmatic subjects compared with healthy control subjects. How bronchial inflammation contributes to the asthmatic condition remains poorly understood. Even asthmatics with normal baseline lung function and no recent exacerbations of their asthma have increased numbers of inflammatory cells in their airways.
Conversely, many individuals allergic to inhaled allergens have evidence of lower airway inflammation but suffer only from the symptoms of allergic rhinitis. The basis for this inflammation is not entirely clear. Many individuals with asthma are atopic and have clearly defined allergen exposures that are partially or substantially responsible for their asthmatic inflammation. Epidemiological studies show a strong correlation between increasing IgE levels and the prevalence of asthma regardless of atopic status. No allergic individuals also can suffer from asthma, as is often seen in subjects in whom the onset of disease is later in life.
Although there are subtypes of asthma (allergic versus no allergic), there are features of airway inflammation common to all asthmatic airways. Airway inflammation is thought to be triggered by innate and/or adapted immune responses. Although there may be multiple "triggers" for an inflammatory response (such as mast cell secretion), there is general agreement that a lymphocyte-directed eosinophilic bronchitis is a hallmark of asthma. The lymphocytes that participate in asthma pathology are biased toward the T-helper type 2 (Th2) phenotype, leading to increases in production of interleukin 4 (IL-4), IL-5, and IL-13. The IL-4 from Th2 cells (and basophiles) provides help for IgE synthesis in B cells. The IL-5 provides support for eosinophil survival.
The innate or adapted immune response triggers the production of additional cytokines and chemokines, resulting in trafficking of blood-borne cells (i.e., eosinophils, basophiles, neutrophils, and lymphocytes) into airway tissues and these cells further generate a variety of autacoids and cytokines. The inflammatory cascade also leads to activation of resident cells within the airways that, in turn, can produce panoply of cytokines, growth factors, chemokines, and autacoids. The chronic inflammatory response, over time, leads to epithelial shedding and reorganization, mucous hyper secretion, and airway wall remodelling most often exemplified by sub epithelial fibrosis and smooth muscle hyperplasia. How these processes lead to attacks of asthma, which most often are induced or exacerbated by respiratory viral infections, remains unclear.
In addition to airway inflammation, asthmatics commonly exhibit bronchial hyper reactivity. Thus the concentration of a bronchial spasmogen, such as methacholine or histamine, needed to produce a 20% increase in airway resistance in asthmatics is often only 1% to 2% of the equally effective concentration in healthy control subjects. This bronchial hyper reactivity most often is nonspecific such that the airways are also inordinately reactive to stimuli such as strong odours, cold air, and pollutants. Little is known about specific mechanisms underlying this enigmatic hyper reactivity.
The pharmacotherapy of asthma centres on controlling the disease with drugs that inhibit airway inflammation. Other drugs that relax bronchial smooth muscle are used for more immediate and direct relief of the symptoms of asthma.Drugs used in the management of asthma include beta2 agonists, antimuscarinic bronchodilators, theophylline, corticosteroids, cromoglicate and nedocromil, and leukotriene receptor antagonists. This is quite hard to incapsulate all of asthma treatment and precautions all together at one place. I'll bring very next article of mine giving you some beneficial tips which can help you control this disease and more drug treatment.
By: Ammarah Khan