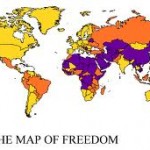 After the World War II the entire Europe was very much scared. They were in fear with communist USSR and Germans. They were thinking that in future Germans will again rise again. To face these challenges European nations want to keep USA in their coalition. That was the reason why North Atlantic Treaty Organization (NATO) was established. The first secretary general has told to media about the main goals of NATO that "To Keep the Russians out, The American in, and grab the Germans.
 At initial stage they were only looking like a political alliance, but in the start of 1950's war between Koreans it turned in to a military alliance. After May 1955 when they signed on Warsaw packet, then Soviet Block and NATO alliance had turn their gun against each other and start a very strong strategic and military build up between them. After the end of cold war and the death of Soviet Union the strategic tension was almost expire between them. After the 9/11 attacks they have turn their guns to Muslim world and start the war. In all these cases United Nation has a very shameful role. Allow NATO to destroy Iraq, Afghanistan and now they planning to destroy Pakistan because they want to control on oil and gas.
 Now US accept that attack on Iraq was a mistake by NATO Forces, and in Afghanistan at least 50 nation alliances has accept the defeat against Taliban. All of these backgrounds they have call a conference in November at Lisbon Portugal sources are saying that this conference has born a very new strategic concept but its very shameful that they have not made any plan for development of Afghanistan and Iraq. In this conference Russian president also specially visited.
 Despite all of these above, reality and truth is that NATO & Collation forces have no success in any part of Afghanistan they only guarding Karzai's government. Whenever NATO & Collation forces leave Afghanistan nobody can stop Taliban to again get control in Afghanistan. In 10 years only Collation forces have earn shameful defeats and karzai's govt have only credit in World No. 2 Place in corruption. There is no thing related to Pakistan but our government is totally involved in war against terrorism.
 Foreign US Secretary of State Mr. Henry Kissinger have well said that disputes with America are not more dangerous then friendship.