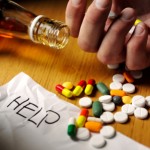 Drug Addiction is among one of the big challenges presented to every country's government. The ratio of people getting addicted to drugs is increasing day by day. This is not only a national threat for a state yet has become international. Many young people are slept to death every year. This has provoked many NGO's in cooperation with UNO to take a step for controlling the ratio of drug addicts. Addiction in fact is a behavioural change that influences human body functions and affects mental brilliance.
The most influential system of diagnosis for mental disorders is that published by the American Psychiatric Association (APA). The APA diagnostic system uses the term substance dependence instead of "addiction" for the overall behavioural syndrome. It also applies the same general criteria to all types of drugs regardless of their pharmacological class. Although accepted widely, this terminology can lead to confusion between physical dependence and psychological dependence. The term addiction, when used here, refers to compulsive drug use, the entire substance-dependence syndrome as defined by APA. This should not be confused with physical dependence alone, a common error among physicians. Addiction is not used as a pejorative term but rather for clarity of communication.
The APA defines substance dependence (addiction) as a cluster of symptoms indicating that the individual continues use of the substance despite significant substance-related problems. Evidence of tolerance and withdrawal symptoms are included in the list of symptoms, but neither tolerance nor withdrawal is necessary or sufficient for a diagnosis of substance dependence. Dependence (addiction) requires three or more of the symptoms, whereas abuse can be diagnosed when only one or two symptoms are present. The chronic, relapsing nature of dependence (addiction) fulfils criteria for a chronic disease, but because of the voluntary component at initiation, the disease concept is controversial.
In general, effects of drugs vary among individuals. Even blood levels can show wide variation when the same dose of a drug on a milligram per kilogram basis is given to different people. Polymorphism of genes that encode enzymes involved in absorption, metabolism, and excretion and in receptor-mediated responses may contribute to the different degrees of reinforcement or euphoria observed among individuals.
Children of alcoholics show an increased likelihood of developing alcoholism, even when adopted at birth and raised by non-alcoholic parents. The studies of genetic influences in this disorder show only an increased risk for developing alcoholism, not 100% determinism, consistent with a polygenic disorder that has multiple determinants. Even identical twins, who share the same genetic endowment, do not have 100% concordance when one twin is alcoholic. However, the concordance rate for identical twins is much higher than that for fraternal twins. The abuse of alcohol and other drugs tends to have some familial characteristics, suggesting that common mechanisms may be involved.
Innate tolerance to alcohol may represent a biological trait that contributes to the development of alcoholism. Data from a longitudinal study show that sons of alcoholics have reduced sensitivity to alcohol when compared with other young men of the same age (22 years old) and drinking histories. Sensitivity to alcohol was measured as the effects of two different doses of ethanol in the laboratory on motor performance and subjective feelings of intoxication. When the men were re-examined 10 years later, those who had been most tolerant (insensitive) to alcohol at age 22 were the most likely to be diagnosed as alcohol dependent at age 32. The presence of tolerance predicted the development of alcoholism even in the group without a family history of alcoholism, but there were far fewer tolerant men in the negative-family-history group.
Physical dependence is a state that develops as a result of the adaptation (tolerance) produced by a resetting of homeostatic mechanisms in response to repeated drug use. Drugs can affect numerous systems that previously were in equilibrium; these systems find a new balance in the presence of inhibition or stimulation by a specific drug. A person in this adapted or physically dependent state requires continued administration of the drug to maintain normal function. If administration of the drug is stopped abruptly, there is another imbalance, and the affected systems again must go through a process of readjusting to a new equilibrium without the drug.
By: Ammarah Khan