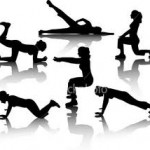 Fitness is an important and precious thing of life. Fitness can solved most of human being problems. One fit man can do these work and makes impossible in to possible .There is many reasons to fit and perfect (Health is Wealth) it is a universal truth.When you became ill, you are miss every thing of your daily life and you are filling in very trouble with health and fitness. There are many methods to keep you fit and perfect.
 Adopt the following routine in you daily life.
1.      Go early to bed:
At the end of your daily in out and routine. Finish your work and must be   go to bed early in
Time of sleep .Fix Sleeping time and do not try violate you're the time of sleep.
2.      Early Get up
If you are sleep in early of night, you can achieve to awake early in the morning and you will find yourself fresh and happy.
3.      Morning  Exercise
In the first time of morning take a light and warming exercise like, jogaing in the green spot of grass to improve you eye sight. Running, jumping etc can make your blood warm and active .You will be active and fit all day
4.      Light & Health Breakfast
After Exercise when you finish all activities go for getting bath by warm water and then take light and healthy breakfast like juice, milke, egg etc.  
5.      Office  /Daily Routine work
After all start your daily long term office or other daily life activities with great and strong mind. And don't try be anger at any body of you job. First of all do you pending work and then plan for future activities  
6.      Lunch
In break time doing lunch .And try to get an light food not fast food. away your self from drugs and thing who makes you lazy and slow.
7.      Closing Of Daily routine
At the end of your office time close all daily work and insure that you in free mind .And go to home in the way of home buy something for you children and wife, mother sisters and brothers .You will be gen a lot of happiness.
8.      Free Time at Home
In free time do gardening and home designing. And plan for dinner with your family members.
9.      Evening Games /Walk
Participate in the evening games and Walk. Or join club.
10.  Entertainment
After finishing all your daily work became ion rest position .Do dinner and entertain your self by TV.