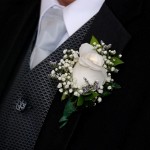 If you're a flower lover and are looking around for getting a rose boutonniere, be happy knowing that making a rose boutonniere is not a tough deal at all. You simply need to have some accessories and a skilled usage of them, that's all. By following simple instructions step by step, you will get a fruitful result. Now, come to the procedure to the point, simply have a look at the necessary tools given below in the list and go on work.
Tools for Making Rose Boutonniere:
Take a look at the list, I am sure, you must have these little cutting companions at home. For making rose boutonniere, you need:
Rose (Choose the color you love or the one you have an access to)
Wire Gauge
Wire Cutter
Floral Tape
Boutonniere pins
Pliers
Flower Clippers
Filling leaves, flowers or gems (you can add as much as you want to adore your rose boutonniere)
Now, after collecting these accessories, follow the below given instructions step by step.
Making a Rose Boutonniere:
First of all, let me tell you the fact that delicacy of making rose boutonniere and the treatment of the flower are two main things that you need to focus on. The rest of the job is extremely easy and joyous.
Take your rose, take off the outer petals using a soft hand.  These petals are necessary to be removed as these may spoil the look of your boutonniere.
Take a piece of floral thread and pierce it in the upper part of your rose's stem. In fact, if you look, you'll realize that you are creating a wire stem for your rose. This wire stem will help you in bending it and making it adjustable.
Bend your wire like a stem with the length you need. It's good if you keep it about 4.5".
Wrap the floral tape around the wire. This needs a little practice, so don't worry if you find it tough for first time. It's all OK. This is something that everyone faces while making a first attempt.
Now take your filling flowers or leaves or gems. Why am I giving you these options? The choice varies from individual to individual. Some people only like to have their rose boutonniere with the green leaves; others add some color to it through ribbons or using gems. Anyhow, I'll tell you a secret of how to use all.
Take your ribbon and twist it. Tie the end with a wire together and bend the wire. Now wrap the tape around it and go for the next item.
Now come to arrange these things the way it pleases you.
You can experience the variations by replacing one item with the other before you tape them with your rose boutonniere.
Yeah! Now come towards the final step, take a pen and spiral the wire of your rose boutonniere.
Congratulations! You have done it.
Some Tips to Make a Perfect Rose Boutonniere:
There are few things that can help you to improve the look of your rose boutonniere. By taking care of these little things, you can definitely make a wonderful bout.
Make sure that the rose you are using is fresh. You can check it by touching its stem at the base, if it's getting soft; your rose is getting old. Change it!
The wire stem should be of a maximum length of 4.5". You must cut the extra wire. This is necessary for acquiring certain neatness.
Before taping the wire, you can have a comfortable deal of the tape by wrapping it around a ball pen. Just stretch the tape a little bit as you go on. It will stick to your wire.
Don't let the wire stem of your bout to get bulky. It must look as thin as possible. Cut all the extra wires and unnecessary threads.
If you think you can go with the single taping of all the filling items, please do. It will help you to get a good and nice looking rose boutonniere.
Do not make your bout much before the time you need it.
After you complete it, take a cellophane sack and keep your bout inside.
Place it in your refrigerator at perfect temperature of 40 degrees.
For a maximum life of your bout, you can also spray it with some products available at florist's shop.
By: Ammarah Khan