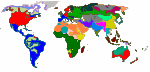 What is linguistics? It is defined in dictionaries as the academic study or, more simply, as a 'science' of language, and those who practice it are linguists. Another very general and usual definition is that the linguistics is 'the scientific study of language'. This definition, however, further raises two more questions: what is meant by language? And what do we mean by applying the term 'science' in this field?
Applied Linguistics:
It is the application of knowledge of linguistics to solve the problem of language in the real life.
Inter-disciplinary fields:
There are few terms which are important in applied linguistics.
Monolinguals: It is the tendency or ability to use one language.
Bilingualism: It is the tendency or ability to use two languages.
Multilingualism: It is the tendency or ability to use more than two languages.
Areas of Applied Linguistics:
Language pedagogy
Language Acquisition
Language Testing
Socio-linguistics
Pragmatics
Forensic Linguistics
Discourse Analysis
CMC (Computer Mediated Communication)
A short of the above mentioned points if as follows:
Language Pedagogy:
In language pedagogy we discuss what are some the different methods to teach the language. Some of them are given below:
GTM (Grammar Translation Method)
CLT (Communicative Language Teaching)
TPR (Total Physical Response)
SLT (Situational Language Teaching)
Direct Method
Silent Method
Language Acquisition:
In this area we discuss that how we acquire language. We have different theories by which we come to know that how we acquire language.
Behaviouristic Theory
Humanistic Theory
Mentalist Theory
These theories have been taken from Psychology.
Language Testing:
 We have different testing systems for teachers to analyze students. For example IELTS, TOEFL, TESL etc.
Socio-linguistics:
In this area we study the relationship between society and the language. In which we come to know that how society affects language and how language affects the society. There are three terms under Socio-Linguistics
Dialect
Sociolect
Idiolect
Forensic Linguistics:
In this area we study the language related to law, crime and judiciary.
Pragmatics:
Use of language according to the context and situation is called Pragmatics. It develops at high level. Pragmatic level comes with age.
Discourse Analysis:
We have coherent piece of sentences in discourse analysis. For example a book written on law is a coherent piece of law. 
CMC:
It is defined as any communicative transaction which occurs through the use of two or more networked computers. While the term has traditionally referred to those communications that occur via computer-mediated formats (i.e. instant messages, e-mails, and chat rooms)
 BY Atique (183/10)