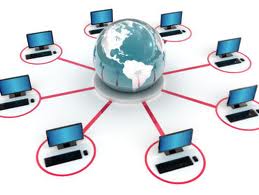 The Internet is a system that connects computer networks. The Internet links millions of computers all over the world. It allows your computer to get information stored on other computers far away. Some networks have only a few computers. Some networks have thousands of computers. Computers connect to the Internet through telephone, wireless media and cable systems. Many governments, big companies, and other organizations have intranets. The computers on an intranet are hooked up to the Internet. But only people who work for the organization that owns the intranet can use it. Other people on the Internet cannot see what is on the intranet computers. Millions of people use the Internet every day. No one knows as a fact exactly how many people are using the Internet.
Uses of Internet
Do you play computer games over the Internet? Sending and receiving messages using E-mail facilities? You can get all kinds of information on the Internet. People use the Internet to work at home. Scientists use the Internet to help them do research. The Internet has made big changes in the way many people's life and work. Advertisements are shown about products and services.  Internet is also used for making purchases through computers.
How to use Internet
You get on the Internet by joining a computer network. The network that you join is called an Internet service provider (ISP). There are different ways to connect your computer to the ISP. You can hook up your computer with a modem and your home telephone line. This is called dial-up access. You can hook up to the ISP with a digital subscriber line (DSL) or a cable modem. A DSL uses the same wires as your telephone. A cable modem uses the same wiring that cable television uses. DSLs and cable modems bring Web pages to your computer screen much faster than a dial-up connection. DSLs and cable modems are called broadband connections. Many computer experts think more people must get broadband connections in order to achieve continuous growth in the Internet .
The Web and the Internet
The Web is made of places called sites. People use special computer programs to make the sites. The sites are stored on computers called Web servers. Each site is made up of documents called Web pages. These Web pages can have text, pictures, sounds, and videos. You need computer software called a Web browser to find and see Web pages. Each Web page has a URL (Uniform Resource Locator). The URL is like an address that the browser looks for. An example of a URL is: http://www.google.com/. Many computer experts think that the Internet became so popular because of the Web. The Web is easier to use than the Internet by itself. By the end of 2000, more than 80 percent of all traffic on the Internet highway came from the Web.